Our intensive courses are specifically tailored for young adults who seek preparation and high results in
the Goethe exams or other German language certificates.
Our extensive experience in the foreign languages sector has allowed us to design courses that help students achieve their
goals in a short amount of time.
Learn with the Best
Our course is designed to ensure maximum student engagement. That means that you will never get bored, while at the same time you achieve your objectives in a short period of time. Find out more about our interactive lessons.
Your Passport to Europe
Germany has been the number one destination for undergraduate and post graduate university programmes. Learn the German language and prepare to study in Germany in just a few months.
Learn Anywhere
Our user friendly technology allows to learn everywhere. Whether you are on your PC or mobile device, you can still access live lessons and undertake the various interactive activities that follow each lesson. Click, learn and enjoy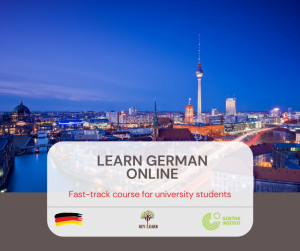 Learn German Online - Basic
Find out about the easiest way to learn the German language. You will attend 4 hours of live lessons per week, plus practise with the interactive activities that we have for you.
Learn German Online - Fast Track course
Even if you are a beginner, you can reach a B2 level in less than a year with our fast track course. Attend 6 hours of live lesson per week plus lots of online activities.
Why Learn the German Language?
Germany's popularity has been soaring as a study abroad destination, over the last few years. Be it the low cost (State Universities are free to attend), the low cost of living and the high quality of university programmes, have all made Germany as the ideal destination for attending further education.
Furthermore, German university programmes are renowned for Engineering, Medicine and Science programmes allowing for great career opportunities after studying. The only prerequisite for studying in a German university is language proficiency. A successful candidate should possess a B2 certificate, which could be achieved in less than 1 year when attending our online course. That is even if you do not know a single German word.